IR-EVO 110 manual dryer is suitable for the treatment of small surfaces. Excellent for all jobs that require a high temperature for a short time.
IR-EVO-110 use high short waves quality ruby coated lamps, an instinctive choice taken during the first steps of the IR-evo project development.
The decision to use electric infrared is because it is extremely versatile and has unique advantageous in performance, making the equipment ideal for use in today's modern body shop. IR Rays emitted by short wave infra red lamps can penetrate various paint product layers applied onto the surface, reaching and directly heating the lower support.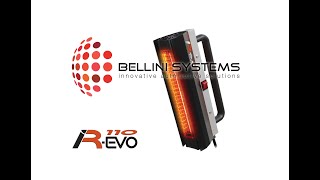 Effectively allowing the paint material to dry from the inside to the outside, ensuring an optimal and complete evaporation of the volatile components and an unmatched curing of the surface. Lamps reach very high temperatures (up to 1200°C) in less than a second and cool down rapidly. This feature together with the specific software ensures the complete control of the power (from 0 to 100%). Allowing full monitoring of the temperature applied to the surface which is to be dried, monitoring every level of moisture and ambient temperature, with every kind of paint material, curing independently from the support material of (steel, aluminium, plastic, carbon fibre, wood…)
The handheld IR-EVO 110 short wave infrared dryier has been designed to treat small surfaces. Optimal for all those jobs that require a high temperature for short time periods. Higly comfortable due to light weight and ergonomic handle
INFO & QUOTATIONS